Outdoor Single Color LED Displays
P16 Double Color LED Screen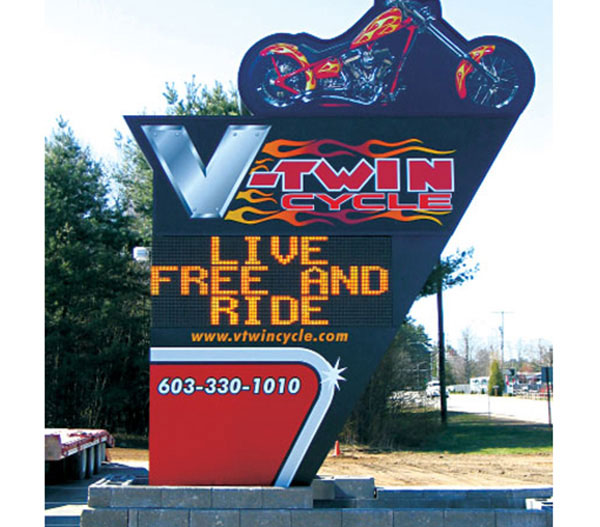 ~P16 Double Color LED Screen can be used in bright sunlight as well as in rain and is thus ideal for use at all indoor locations.
~Any LED in each pixel can be respectively replaced, which reduce the cost of the led screen maintenance.
~Led panels having good lighting accordance and no mosaic.Getting vivid effect within any position of the viewing range.
~Multiple design components to meet customer applications and the needs of the environment changes.
~Uniformity is good, and led display has very good consistency luminescence.
~Remote control network.The computer can display the broadcast advertising contents that was divided into sessions and rolling cycle to reduce the cost of advertising.
~P16 Double Color LED Screen connected with the computer that install the special software we provided can show patterns,text and animation.
Advantages of P16 Double Color LED Screen:
1) Price Advantage: we have the best competitive price at the market, also have the same even better quality.
2) Performance Advantage: Best Equality, high consistency, Big viewing angle, can repair each led lamps
3) Quality advantage: From material to finished product, from design to produce, we control all steps, that's the guarantee of the quality and reliability.
4) Service advantage: Better service at same situation, better cooperation at same service!
Application area of P16 Double Color LED Screen:
1) Full color LED display : Equally or compactly make the red, green, blue color in one dot, equally distribute at the panel, so make the whole display
2) Usually apply for physical sports, advertisement, bank, stock exchange, station, port, marketplace, telecommunication, department, school, monitor, restaurant, entertainment.
Module parameters of P16 Double Color LED Screen
| | |
| --- | --- |
| Pixel Pitch | 16mm |
| Pixel composing | 1R1G/1R1B |
| Density | 3,906dots/m2 |
| module resolution | 16 dots* 8 dots |
| Module size | 256mm * 128mm |
Whole screen specification of p16 double color led screen
| | | | |
| --- | --- | --- | --- |
| Pixel pitch | 16mm | Short circuit protection | Yes |
| Standard cabinet size | 768*384mm or design | Refresh | 400 Hz |
| Weight per sqm | 35 Kg/sqm | Changing frame frequency | 60 Hz |
| Whiteness brightness | 3000 cd/sqm | Driving method | Constant driving ,1/4scan |
| Led package | DIP | Working Environment | Outdoor |
| Wave Angle (H) | 110°(H)/30°(V) | Working temperature | -10~50℃ |
| Best view distance | ≥8m | Working Humidity | -10~90% |
| Working voltage | AC 220v/380v±10%50~60Hz | Out of control | 1/10,000 ( scattered) |
| Power consumption/ m2 | 500W/sqm | lifetime | 100,000 hours |
Relevant product information