mobile led screen
Trailer Mobile LED Screen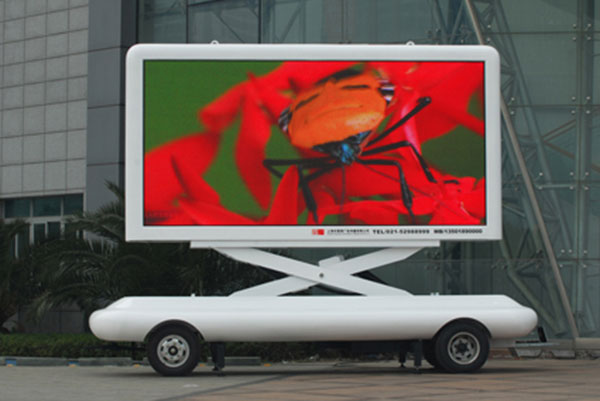 Product features:
1. Large widescreen perfect experience:
E - K50II 12 ㎡ full-color outdoor LED screen, mainstream 16:9 widescreen display on the screen size and resolution to achieve perfect balance, bring strong audio-visual experience with high-power stereo equipment; Military level of audio-visual integration control system ensure the smooth running stability, compatibility support various types of video files.
2. Outdoor warrior Fear wind and rain:
Give full consideration to the outdoor operation factors, the designer to reasonable proportion of the vehicle weight, give full consideration to drainage factors, set up a fixed support leg, and the key parts of waterproof design;Shell adopts full steel quality, across the board to improve combat, wind, seismic, prevent capsizing, rain, such as design standards, ensure ahead of the industry standard.
3. Streamline appearance Elegant simplicity:
Designers to improve the function on the basis of balancing the appreciation of the body, the vehicle smooth lines smooth, simple style and elegant, suitable for all kinds of environment, but also for the user to personalized decoration products to reserve enough space.
4. Imported hydraulic elevator security and stability:
Imported hydraulic lifting system security and stability, can travel 2 m;Can be adjusted according to the requirements of the environment, LED screen, make sure the audience get the best viewing Angle.

Technical Parameters of mobile led display:
Model

E-K50Ⅱ

Chassis

Dimensions

6500×1840×3500mm

Turning Angle

Left and right, each is 15 degree

Total weight

4500KG

Lifting system

Lifting method

Shear fork lift,distance: 2000mm

Supporting system

Ball screw support,distance:300mm

LED screen

Screen size

4.608×2.304mm

Module size

256mm(W) ×128mm(H)

Brightness

≥6500cd/ m²

Pixel pitch

8 mm

Average consumption

350W/ m²

Max. Consumption

800 W/ m²

Power supply

Input voltage

Three phase, 5 wire 380V

Output voltage

220V

Current

30A

consumption

Average consumption:0.5wh/m²

Broadcast system configuration

multimedia player

Support U disk.Can implement remote playback, expand the implementation timing, call waiting, circulation and so on the many kinds of playback mode.And support for remote control volume, time switch, etc.

Video processor

Support 8-way signal input

SoundBox

120W

power amplifier

200
Contact Us
If you are interested in our products , Please call us or email to us. We will give you more demands and help!

Company: SHANGHAI HARSE ELECTROMECHANICAL TECHNIC CO.,LTD
Contacts:
Office: + 86-021-61993536
Mobile: + 86-13918891309(WeChat)