LED Curtain Screen
LED Curtain Screen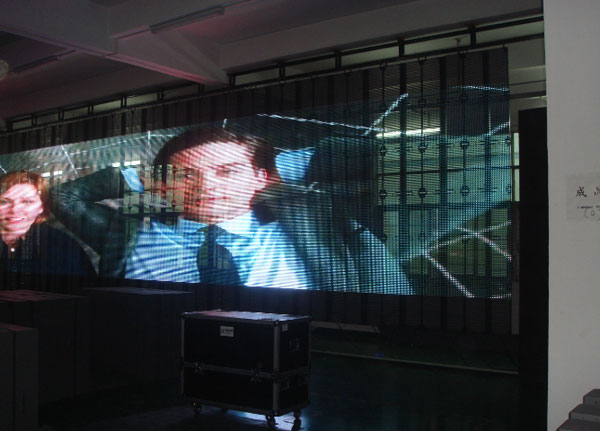 Features of outdoor full color PH20 SMD strip
1. Specifications:
Cabinet size: 636 x 635 x 72mm
Pixel configuration: 3 in 1 SMD 5050
Power consumption: Maximum 200w, Average 60w
View angle: H150°, V 150°
Brightness: 4500cd/m2 meet the needs of outdoor light
2. Weight: 8kg
3. Good permeability: 60%
4. Ventilation: 40℃ Lower than peers 10℃ or 20℃
5. IP ranking: IP65&IP67
6. Convenient for installation/un-installation. It can be hang-up or fixed to the steel frame. And you could freely take out any cabinet without uninstalling other ones.
Technical Parameters of p20 led curtain screen:

| | | |
| --- | --- | --- |
| No | Item | Description |
| 1 | Pixel pitch | 20m |
| 2 | Display resolution | 32 x 32 dots |
| 3 | Pixel configuration | 1R1G1B |
| 4 | Physical density | 2500 (pixels/m2) |
| 5 | Driving method | Static duty |
| 6 | Panel size | 635 x 635 x 72 mm |
| | | |
| --- | --- | --- |
| NO | Item | Description |
| 1 | Gray scale | 16384 |
| 2 | Brightness | 4500±10% Nit |
| 3 | Viewing angle | H150°, V 150° |
| 4 | Option distance | >22m |
| 5 | LED encapsulation | SMD5050 3 in 1 |
| 6 | Working voltage | DC 5V |
| 7 | Working consumption | <= 200w |
NO

Item

Description

1

Life time

100,000 hours

2

Environment temperature

-20℃ - 60℃

3

Material of module outside frame

Aluminum

4

Led wave length

R: 620~ 630M

G: 520~530M

B: 460~470M

5

Diaphaneity

33%

6

Install way

Sling or immobility

7

Weight

8kg