P16 Outdoor Full Color Programmable LED Moving Sign
P16 Outdoor Full Color Programmable LED Moving Sign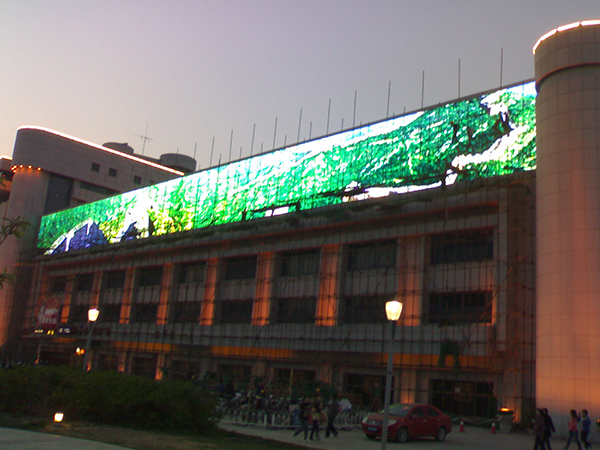 Application areas:
·---Shopping malls, department stores, shops and car dealerships.

·---Sports halls, fields, playgrounds.

·---Airports, bus stations and railway passenger terminals.

·---Television studios, broadcast centers, cinemas.

·---Concert halls, music halls, theaters.

·---Casinos, nightclubs, restaurants, entertainment centers.

·---Exhibition centers, conference rooms, presentation centers.

·---Banks, stock exchanges, business centers and headquarters.

·---City halls, town halls and meeting rooms.

·---Museums, galleries, video art, social and municipal buildings.

·---Call centers and data telecommunications, mobile operators, telephone companies, etc.
Technical Parameters:
| | |
| --- | --- |
| Pixel Pitch | 16mm |
| Pixel composing | 1R1G1B/2R1G1B |
| Density | 3,906dots/m2 |
| module resolution | 16 dots* 16 dots |
| Module size | 256mm * 256mm |
| Standard cabinet size | 1024mm*1024mm or design |
| Weight per sqm | 50Kg/sqm |
| Whiteness brightness | ≥7500cd/sqm |
| Led package | DIP |
| Wave Angle (H) | 110°(H)/40°(V) |
| Best view distance | ≥16m |
| Working voltage | AC 220v/380v±10%50~60Hz |
| Power consumption/ m2 | 405W/sqm |
| Short circuit protection | Yes |
| Refresh | 400 Hz |
| Changing frame frequency | 60 Hz |
| Driving method | Constant driving ,1/1scan |
| Working Environment | Outdoor |
| Working temperature | -30~60℃ |
| Working Humidity | -10~90% |
| Out of control | 1/10,000 ( scattered) |
| lifetime | 100,000 hours |
Detail pictures: